When worn Black Big Size Latex Waist Body Shaper 7 Steel Bones Custom Logo during exercise, the compression stimulates thermal activity in your core which increases perspiration, allowing toxins to escape.
It Features:


1. A front zipper keeps a tight fit around your waist to achieve the long-lasting waist-cinching effect as you lose weight;
2. Attach a layer of the belt for firm waist control, flatten the stomach and slim your tummy;
3. Adjustable sticker straps for easy adjustment and secure closure and make sure that the belt is fastened tightly around the abs;
4. Eco-friendly latex helps with weight loss and waist sculpturing and shaping;
5. Enhance your silhouette in this smoothing waist cincher.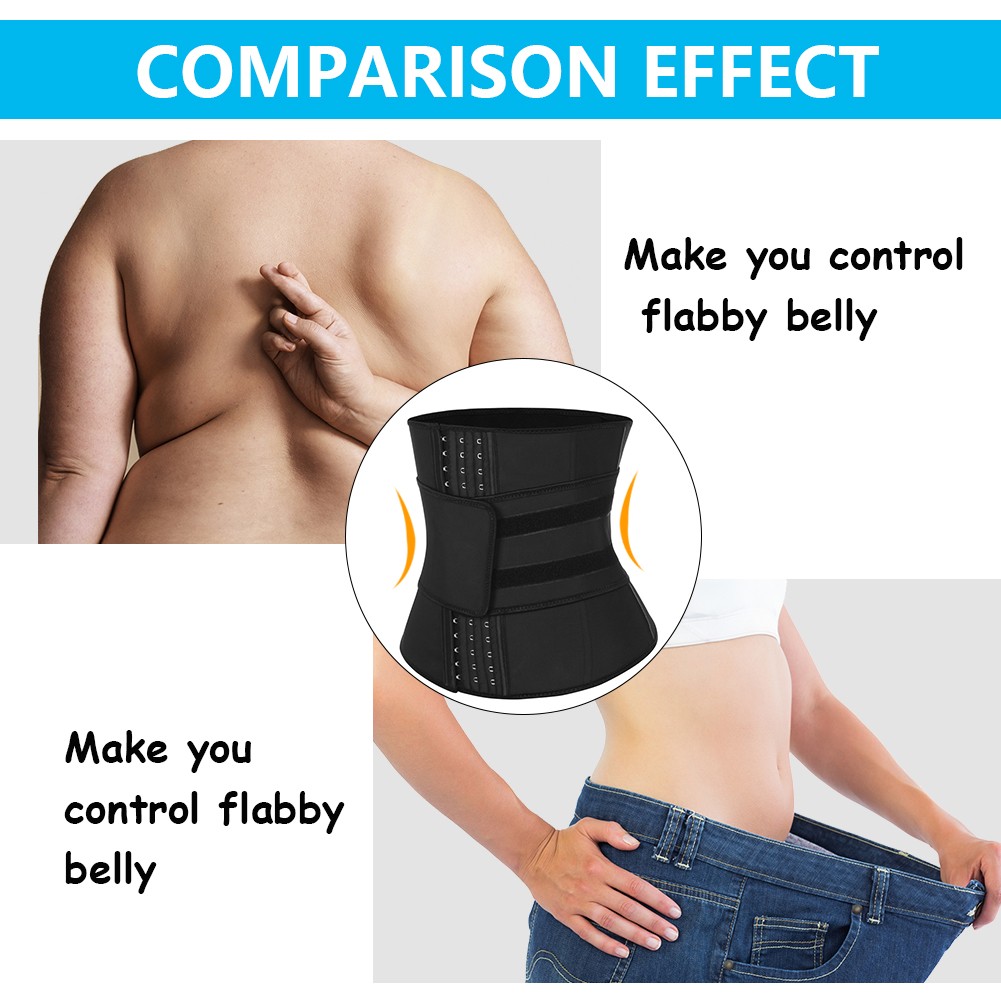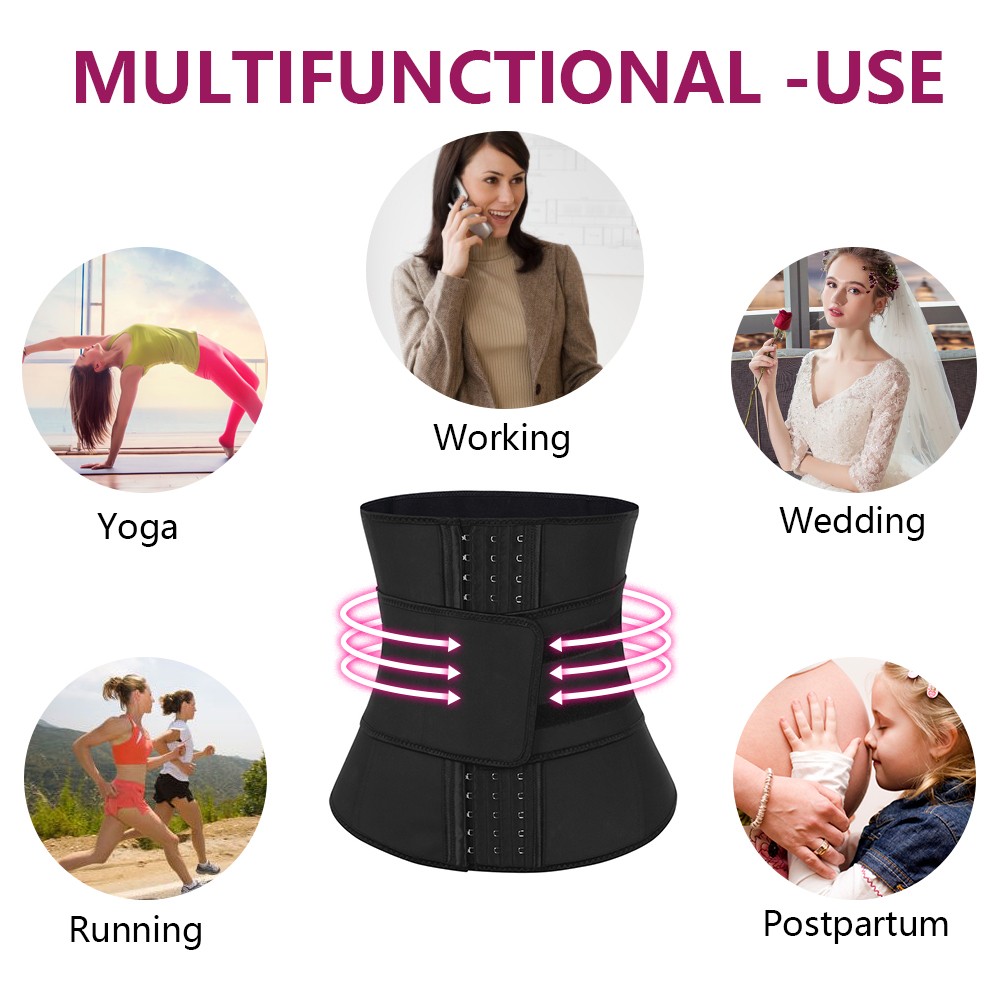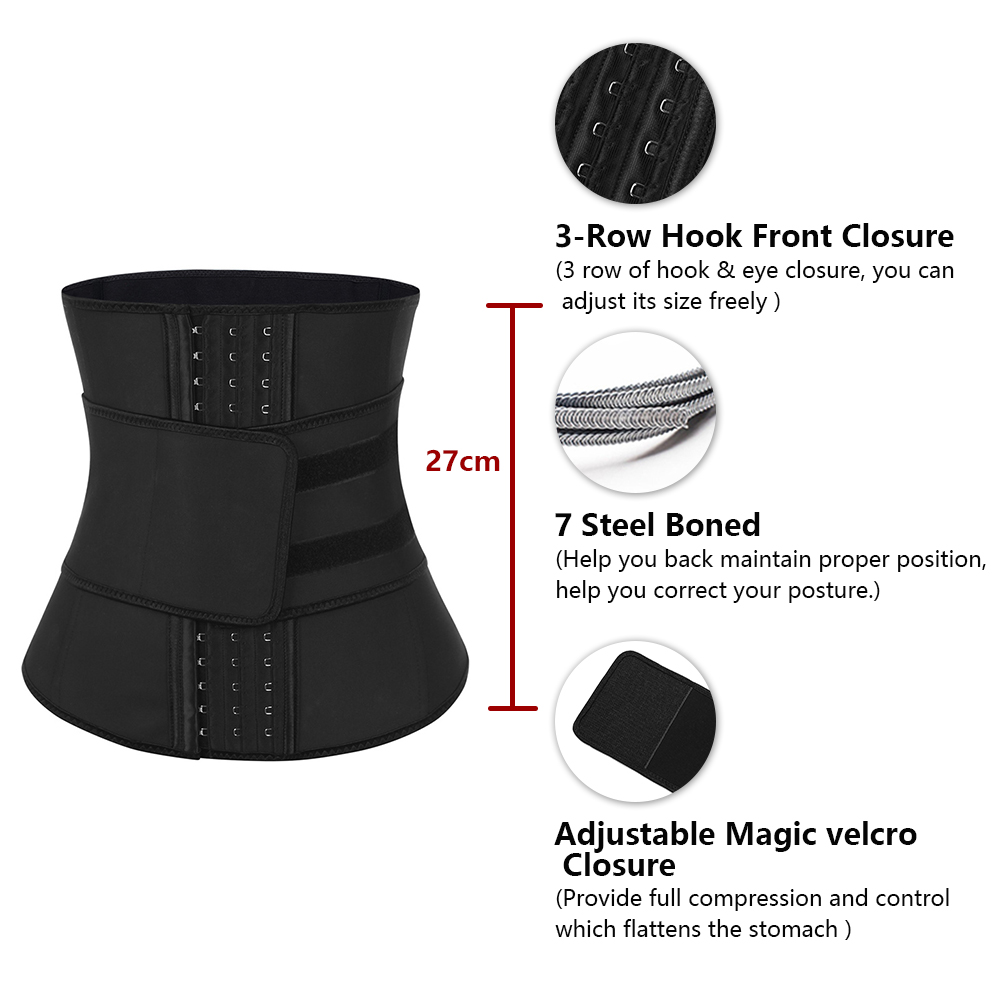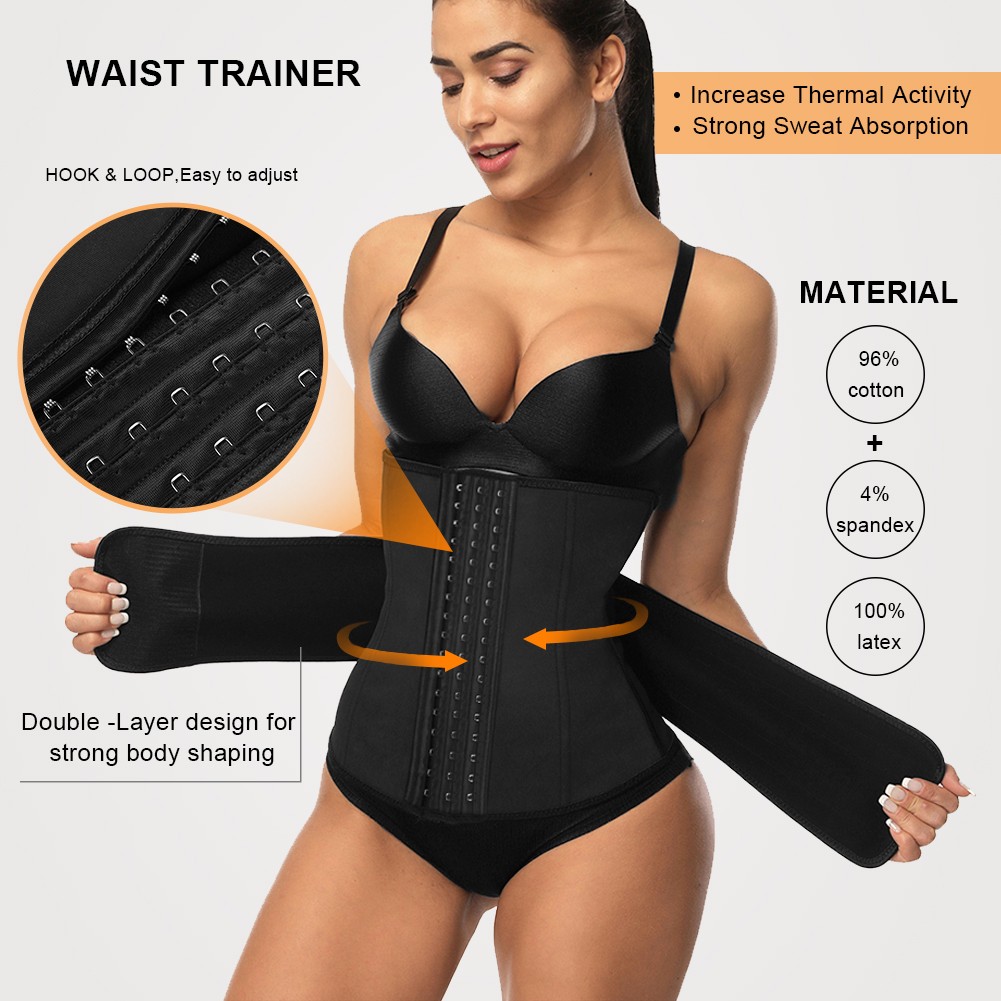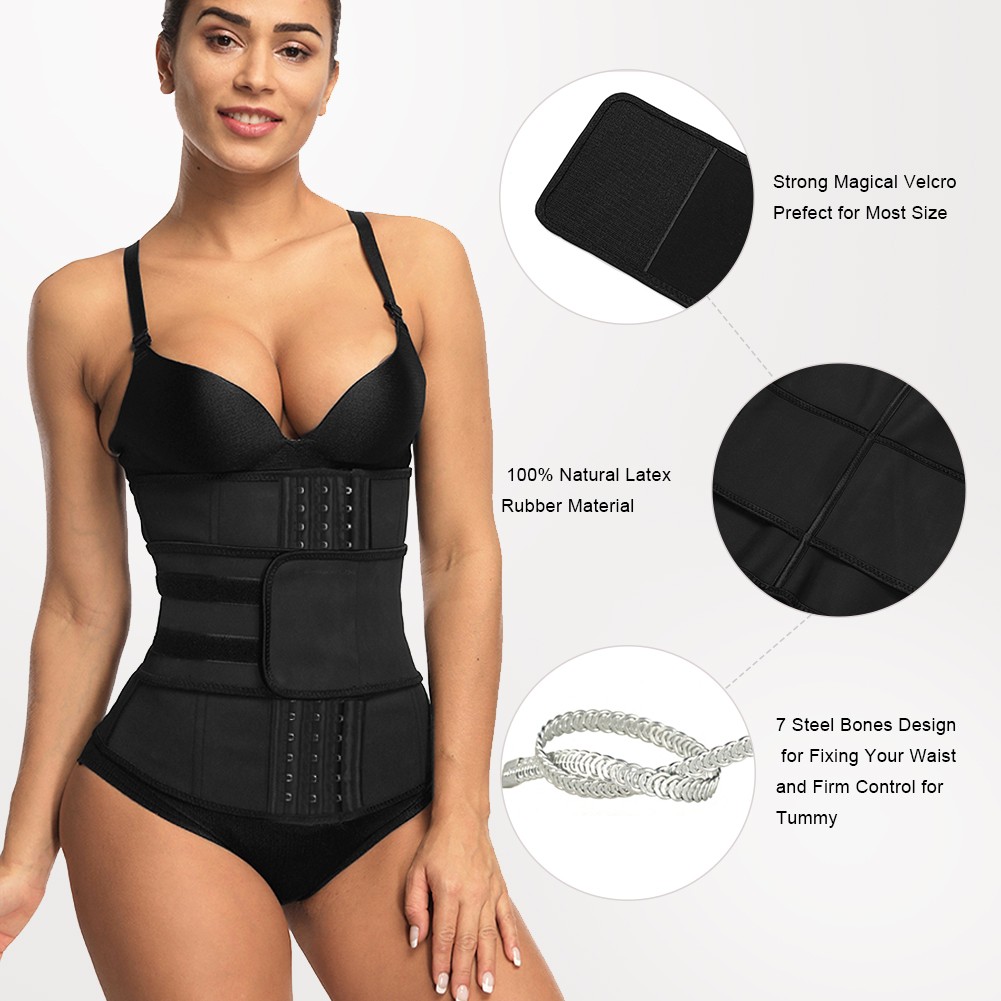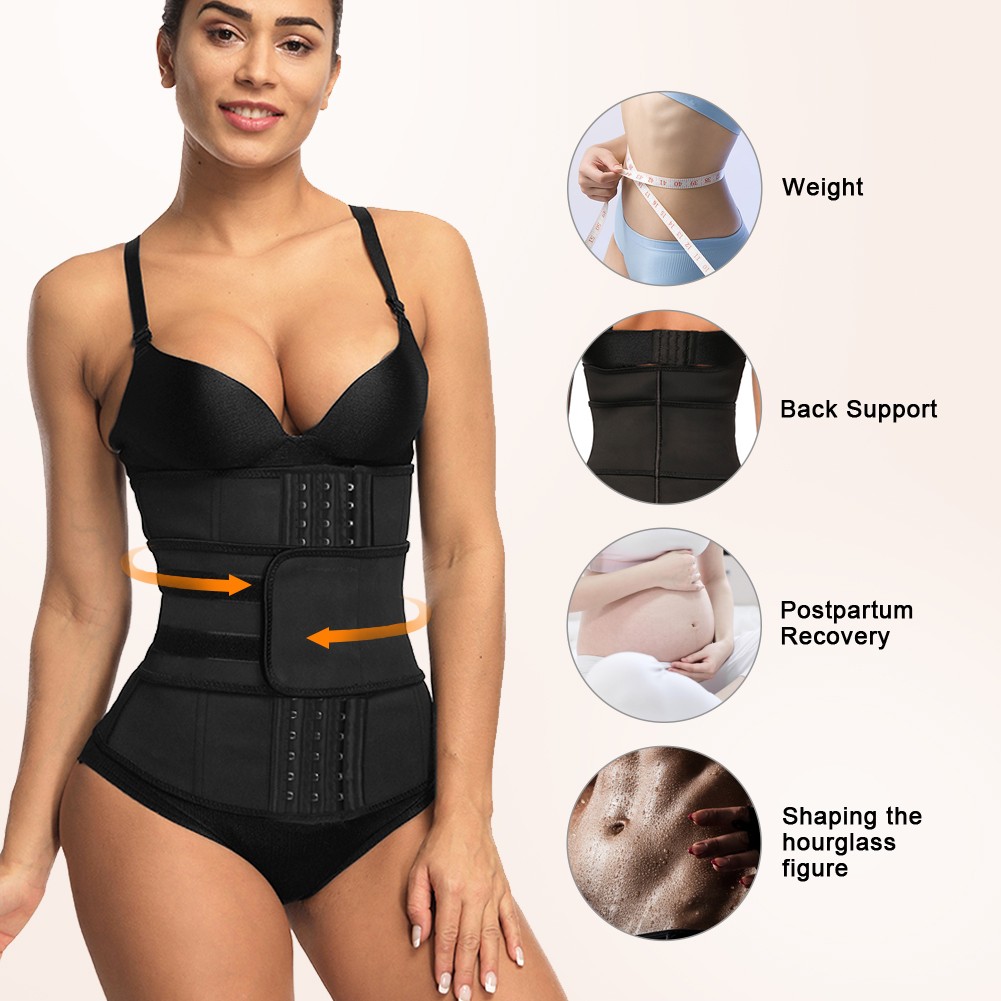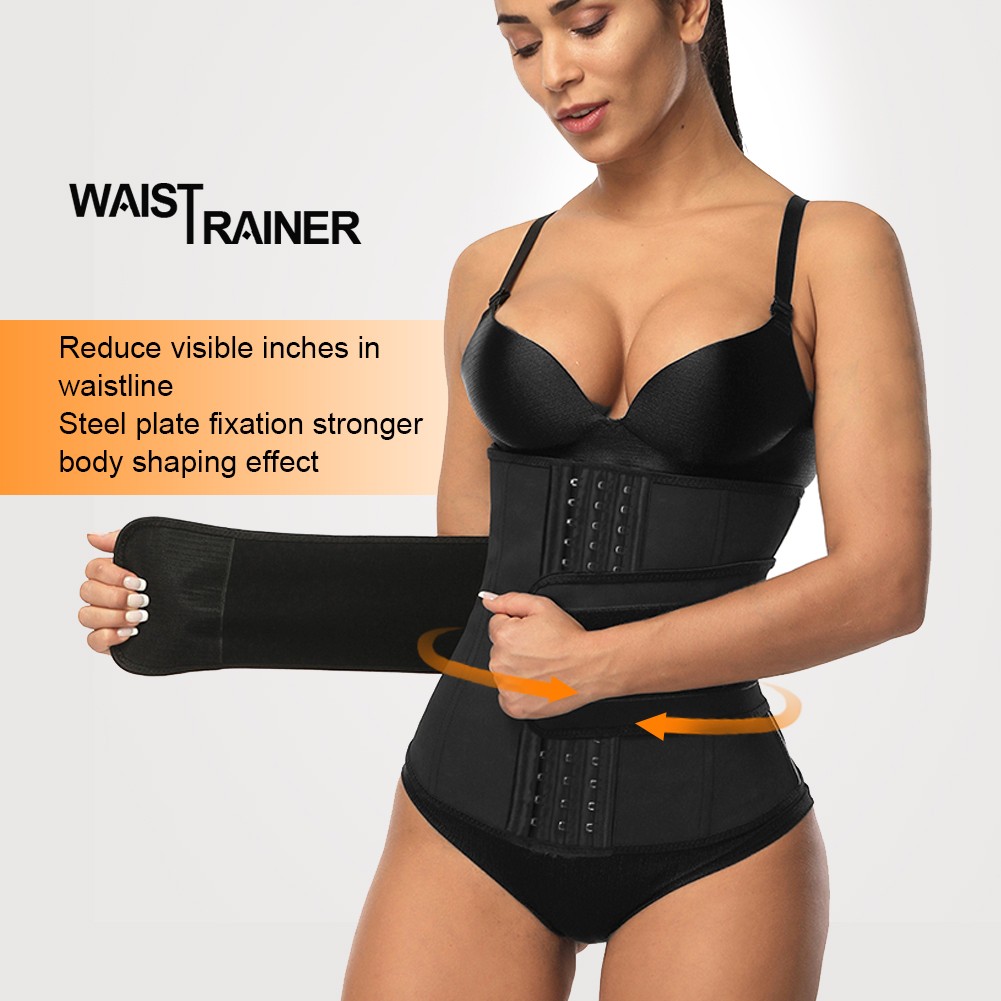 Pay attention: This size chart shows the size of the body measurements,not the size of the shaperwear
| Size | US | UK/AU/NZ | Italy | France | Spain | Germany | Janpan | Russia | Waist | Centre Front | Centre Back |
| --- | --- | --- | --- | --- | --- | --- | --- | --- | --- | --- | --- |
| XS | 0-2 | 4-6 | 36-38 | 32-34 | 32-34 | 30-32 | 5-7 | 38-40 | 58-63 | 32 | 27 |
| S | 2-4 | 6-8 | 38-40 | 34-36 | 34-36 | 32-34 | 7-9 | 40-42 | 63-68 | 32 | 27 |
| M | 6-8 | 10-12 | 42-44 | 38-40 | 38-40 | 36-38 | 11-13 | 44-46 | 68-73 | 32 | 27 |
| L | 10-12 | 14-16 | 46-48 | 42-44 | 42-44 | 40-42 | 15-17 | 48-50 | 73-78 | 34 | 28.5 |
| XL | 14-16 | 18-20 | 50-52 | 46-48 | 46-48 | 44-46 | 19-21 | 52-54 | 78-83 | 34 | 28.5 |
| XXL | 16-18 | 20-22 | 52-54 | 48-50 | 48-50 | 46-48 | 21-23 | 54-56 | 83-88 | 34 | 28.5 |
| 3XL | 18-20 | 22-24 | 54-56 | 50-52 | 50-52 | 48-50 | 23-25 | 56-58 | 88-93 | 34 | 28.5 |
| 4XL | 20-22 | 24-26 | 56-58 | 52-54 | 52-54 | 50-52 | 25-27 | 58-60 | 93-98 | 34 | 28.5 |
| 5XL | 22-24 | 26-28 | 58-60 | 54-56 | 54-56 | 52-54 | 27-29 | 60-62 | 98-103 | 34 | 28.5 |
| 6XL | 24-26 | 28-30 | 60-62 | 56-58 | 56-58 | 54-56 | 29-31 | 62-64 | 103-108 | 34 | 28.5 |
| 7XL | 26-28 | 30-32 | 62-64 | 58-60 | 58-60 | 56-58 | 31-33 | 64-66 | 108-113 | 34 | 28.5 |
Pay attention: This size chart shows the size of the body measurements,not the size of the shaperwear
| Size | US | UK/AU/NZ | Italy | France | Spain | Germany | Janpan | Russia | Waist(Inch) | Centre Front(Inch) | Centre Back(Inch) |
| --- | --- | --- | --- | --- | --- | --- | --- | --- | --- | --- | --- |
| XS | 0-2 | 4-6 | 36-38 | 32-34 | 32-34 | 30-32 | 5-7 | 38-40 | 22.8-24.8 | 12.6 | 10.6 |
| S | 2-4 | 6-8 | 38-40 | 34-36 | 34-36 | 32-34 | 7-9 | 40-42 | 24.8-26.8 | 12.6 | 10.6 |
| M | 6-8 | 10-12 | 42-44 | 38-40 | 38-40 | 36-38 | 11-13 | 44-46 | 26.8-28.7 | 12.6 | 10.6 |
| L | 10-12 | 14-16 | 46-48 | 42-44 | 42-44 | 40-42 | 15-17 | 48-50 | 28.7-30.7 | 13.4 | 11.2 |
| XL | 14-16 | 18-20 | 50-52 | 46-48 | 46-48 | 44-46 | 19-21 | 52-54 | 30.7-32.7 | 13.4 | 11.2 |
| XXL | 16-18 | 20-22 | 52-54 | 48-50 | 48-50 | 46-48 | 21-23 | 54-56 | 32.7-34.6 | 13.4 | 11.2 |
| 3XL | 18-20 | 22-24 | 54-56 | 50-52 | 50-52 | 48-50 | 23-25 | 56-58 | 34.6-36.6 | 13.4 | 11.2 |
| 4XL | 20-22 | 24-26 | 56-58 | 52-54 | 52-54 | 50-52 | 25-27 | 58-60 | 36.6-38.6 | 13.4 | 11.2 |
| 5XL | 22-24 | 26-28 | 58-60 | 54-56 | 54-56 | 52-54 | 27-29 | 60-62 | 38.6-40.6 | 13.4 | 11.2 |
| 6XL | 24-26 | 28-30 | 60-62 | 56-58 | 56-58 | 54-56 | 29-31 | 62-64 | 40.6-42.5 | 13.4 | 11.2 |
| 7XL | 26-28 | 30-32 | 62-64 | 58-60 | 58-60 | 56-58 | 31-33 | 64-66 | 42.5-44.5 | 13.4 | 11.2 |